Hello and welcome! I hope you all had a great Halloween (and to my pagan friends out there, a Blessed Samhain!)! Mine was very nice, spent with loved ones and remembering our ancestors and getting ready for a new year ahead of us, filled with hope and promise.
I will make this quick because I know you are probably here for the Steampunk Blog Train! This seems to be a very popular style lately and I am hoping you are having fun blog-hopping and snagging up all the wonderful parts to this train.
Here is a preview to my part of the train (preview is for tagger size, however it is available in both Full Size and Tagger Size):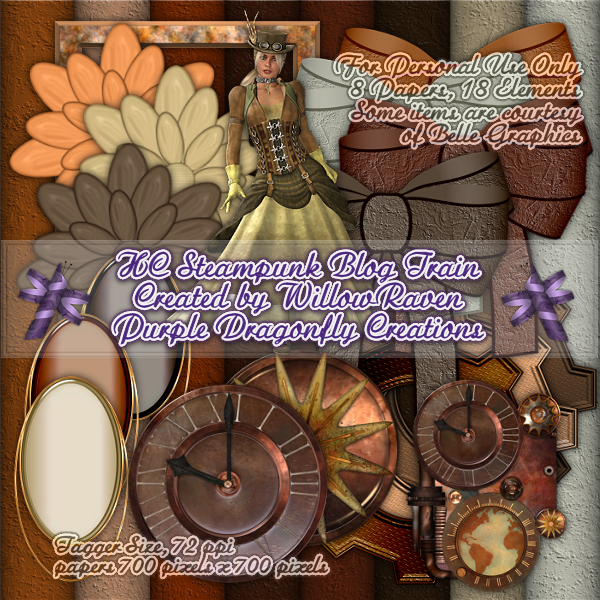 The tagger size kit is 72 ppi, papers are 700 pixels x 700 pixels in png format with matching jpgs and elements are sized proportionately. The full size kit is 300 ppi, papers are 12 inch x 12 inch in png format with matching jpgs and elements are sized proportionately. Please note that in both kits there are 4 items that are included with permission from Belle Graphics and those items are the poser girl, the steampunk clock and sun dial and "complete works". When using any of those, be sure to credit Becky of Belle Graphics. Her TOU is included in the zip-file so you may have it.
Here are the download links:
Full Size Papers
Full Size Elements
Tagger Size - Complete Kit
And without further ado, here is the complete list of participating designers, and their blog links:
Main station
Contributors
AW Design
Barking Penguin Scraps
Bello Scarto
Bunchie's Bin
Creations by Sanie
Debs Design
Designs by Sharonb
Emjay Scraps
Eye Opening Designs
Gothic Inspirations
HF_Projekte
Laura's Designz
MamaLLamaLisaDesigns
You are here

Purple Dragonfly Creations

You are here
Scrap Rebellion
Scrappin with Lil Ole Me
Stargazer Musings

Wishingonastarr
Please remember that we are in different time zones so our parts may hit our blogs at different times, so if you don't see it the first time around, please check back at a later time. And if you download and like our work, please let us know! We love hearing from you all as it inspires us to create more for you!!



Thanks again for coming and please be sure to check back often as I'm working on more scrapping stuff!!