Hello everyone!
I'm so excited to be able to post this today! As I mentioned before, I'm taking part in the blog train from ADS Designers this month. The share this month is called After Dusk and it has some amazing colors in it:



I've had a peek at a few of the offerings already and I have to say, if you don't go snaggin' them, you are surely gonna miss out! The other designers have done an amazing job, coming up with their parts of this blog train, and I'm sure they would love to have you grabbing up their part of the collab kit, as well as hearing from you when you download.
Here is a preview of my part of the kit: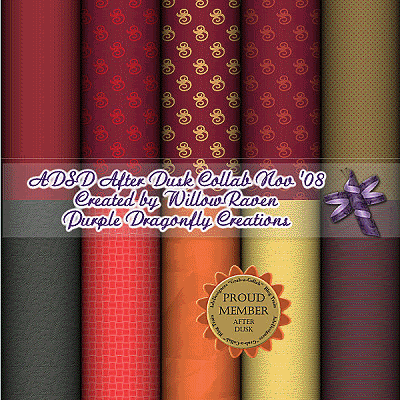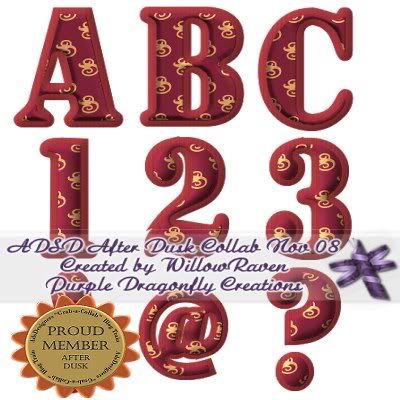 My part of the kit contains:
10 papers (made both full size and tagger size)
3 buttons
3 glittery stars

3 lacy ribbons
2 flowers
2 round frames
2 moon "accents" (kind of glassy/metal look to them)
Matching Alpha with Letters (Capital letters only), Numbers (0-9) and a few symbols
Teri At Teris-Thing-O-My-Jigs made a lovely word-art using some of the items in my kit: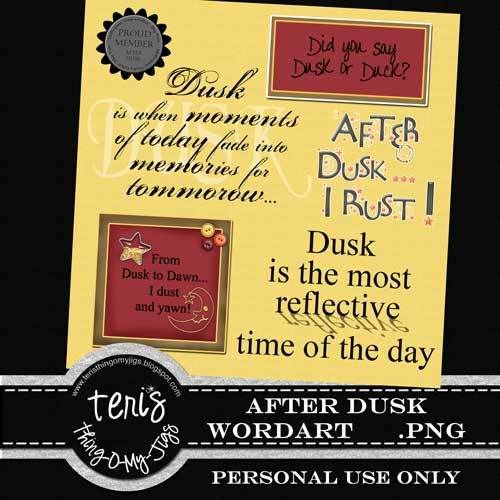 Be sure to stop by her site to pick it up!!
And the links are:
Full Size Papers (12 in x 12 in, 300 ppi) ... png and jpg in same zip
Tagger Size Papers (600 pixels x 600 pixels, 300 ppi) ... png and jpg in same zip
Elements (300 ppi) .... png only
Alphas, Numbers and a few symbols (300 ppi) ... png only
(

EDIT

: Saturday, November 1st: 4shared has been doing a server upgrade, so if you are not able to get to the downloads (page error message, etc), please try back later. I have checked the links myself and they *do* work.
)
I know, normally I have the .psp format available too. If anyone would like it in that format, just give me a holler and I'll make it up for you!

If you download, please leave a lil love?

And be sure to check out the other designers that worked hard to make this a big success. If some of these pieces aren't up yet, be patient! These people live all over the world, and live all kinds of lives, If something isn't up, check back in a day or so! Also, be sure to leave some love for these wonderful people and all the time and effort they have put into this freebie! Enjoy!!:


abyscraps by Sheila
Adele of Blind Sight Designs
Anne at Creative Dreams
Arvita's at Elam's Flights Of Fancy
Becky
Brooke at Ahhh Scrap
by God's design
Carolyn at Digi Cyber Scraps
CharmeDivaScrapz
Chiara at Creative Digital Scraps
Cindi @ vanjo designs
Cyndi, Wetfish Designs
Deanna at Flower Scraps
Deb AKA The ScrappinCop
Debbie at Digital Keepsakes
Diana at Sass n Scrap Designs
Erika {aka PinkuPixie}
Florrie
HeatherStokes ~ HSDesigns
jeanniebs designs
Julia at BeaconScrap
Julie aka Bits 'N' Bobs
Kathy Goldstein at The Scrap Loft
KittenScraps
Lady V dZine
Lei at Fairydustprincess-magicmaker
Lindas Dream Designs
Lois at ScrappinwithLadye
Lori at ScripityScrapDesigns
Lynn at Heavenly Crafts
lynnirene
Mags at MagsGraphics
Manda at Disaster In Designs
Marie at EmCee Scraps
melanie aka sweetasmel
Michelle @ Michelles-Angels
Michelle @ My Digital Fun Place
Missty @ Misstykal Designs
Monica at Random Inspirations
Nicole at Digi-Designs by Nicole
Oase
RachNess
Scraping with Jen
ScrappyShannon
Shabby Tagger
Shel at Shel Belle Scraps
Stacy at Kalo Designs
Sticky Kisses Scraps
Teri At Teris-Thing-O-My-Jigs
TerresaS
Wendi at Willow Grace Designs
WillowRaven at Purple Dragonfly Creations
(you are here)