Hello again!

I took part in the ADSD monthly collab kit and this month the kit is called Sunshine Beach. It has some beautiful, vibrant colors and they were a lot of fun to work with. I know you are all busy, blog-jumping, to get all the parts, so I won't keep you.
Here is my preview: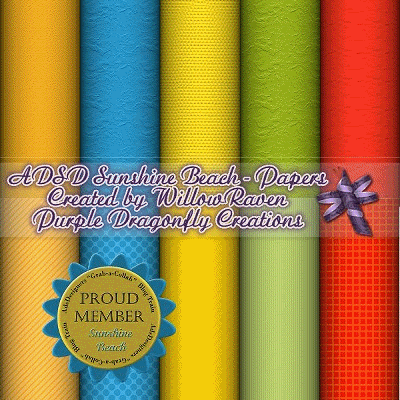 There are 10 papers and 22 elements. I hope that you like them!!!
The full size items (300 ppi, 12 inch x 12 inch papers, elements proportionately sized) can be downloaded here:
PAPERS
ELEMENTS
And the tagger size items (72 ppi, papers are 800 pixels x 800 pixels, elements no larger than paper sizes) can be downloaded here:
PAPERS
ELEMENTS
A lot of wonderful designers took part in this, so be sure to leave some love as you are stopping by their blogs.
Now follow the TRAIN to more fabulous FREEBIES:
MagsGraphics
MoonDance Creations
Anne
Lisa
JaydensMama Designs
Digital-Keepsakes
EmCeeScraps
Panda Bear Designs
Shel Belle Scraps
Wetfish Designs
Linda's Dream Designs
Broken Jar Creations
Heavenly Crafts
My Treasured Scraps
BeaconScrap
Crafters Boutique
Bonnie
Aubrey's Mom
Morgaine Creations©
BlueVelvet DeZigns
Wendy & Sarah
88 Designs By M
ScrapperGirl Designs
Foxy Lady Creation
FairyDustPrincess-MagicMaker
My Sweet Tater
Waite For The Moment Designs
JIC Creations
Grunge And Roses
KnittinJen
BoonieScraps
JanalynsPlace
ESNQueen
Kalo Designs
Mamadukez Creations
Disaster In Design
Beckmoore
Pink Mary Jane
Gail's Space
CandysTreasures
AbbaDabbaScraps
by God's design
Cre8ive Formula Designs
Becky's Scrap
Buzybee Hive
Tootle Bugz
Aisne's Creations
Allie Kat Creations
PinkuPixie

Purple Dragonfly Creations

Michelle's Digital Fun Place
Candy's Creations

= You Are Here!
Please remember that the designers in this train are all over the world, which means different time zones, so if you don't see their portion on the blog, check back a little later! And remember, leave a little love when you visit, as well all love to hear from you all and know you like what we are doing!



Until next time - take care!