Good Evening everyone!

It is a brisk, cold January evening here and winter is definitely in the air! Just a couple of days ago it was in the 70s, and I was actually hanging clothes out on the line (our dryer broke down several months ago so we've been either hanging the clothes or going to the local laundromat). I still have a load left to do so guess its a trip to the laundromat I go! LOL

I also have a new item in the store and wanted to let you all know about it. They are tie dye flowers, and they looks very retro, very 60s. They remind me of a favorite tie dye t-shirt that I use to have, many moons ago. I loved that shirt and hated to get rid of it, however I really couldn't wear it anymore with a huge hole in the middle where my stomach was! I would love to find another shirt like that. It was so comfy and soft! Here is a preview of the flowers:




And they can be found HERE.

And now, for the reason I know you are most likely here for, my portion of the Winter Convoy. I had a lot of fun making the items and putting it together. Here is a preview of my part of this convoy: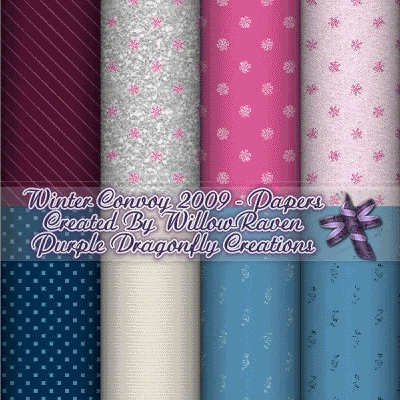 My part has 8 papers and 13 elements. I hope you like them as much as I liked making them for you all! Here are the download links:


FULL SIZE PAPERS: 12 inch x 12 inch, 300 ppi, png format with matching jpgs
CLICK HERE

ELEMENTS: 300 ppi, png format only
CLICK HERE


*AND* while not officially part of the convoy, I did also make tagger sized papers and elements, for those who visit my blog looking for tagger sized items. Here is the link for them:

TAGGER SIZE PAPERS: 600 pixels x 600 pixels, png format with matching jpgs
CLICK HERE

TAGGER SIZE ELEMENTS: largest is 700 pixels x 700 pixels, .png format
CLICK HERE


If you do snag, please leave a little love as it is great to hear from you all and know that what I am doing and sharing with you all is liked and appreciated!






Once you have downloaded from me, it's time to head to the next person in line. Please remember that the designers in this convoy are all over the world, which means different time zones, so if you don't see their portion on the blog, check back a little later! And remember, leave a little love when you visit, as well all love to hear from you all and know you like what we are doing!

Here are the names and links to the participating designers:


01 - SotoCreations

02 - Curtisam Creations

03 - MoveFearlessly Designs

04 - Bits N Bobs

05 - Damc

06 - WillowRaven at Purple Dragonfly Creations
<~~You are here! 07 - Desert Bloom Designs

08 - Moonlight Scraps

09 - CandysTreasures

10 - JIC Creations

11 - Melinda's designs

12 - Carolyn at Digi Cyber Scraps

13 - Kolor'Scapez

14 - outbackdezigns

15 - Digital Scrap Fun

16 - EA-Gra-Fx by Endora Aphrattos

17 - Elemental Pixie

18 - Supersuzi

19 - Vintage Paris Princess Designs

20 - Willow Grace Designs

21 - Twisted Angel

22 - Foxylady Creations

23 - TammyJo's Creations

24 - Moo's Scraps

25 - BlueVelvet DeZigns

26 - Jen

27 - Teri~

28 - Blind Sight Designs

29 - PinkuPixie Digital Designs

30 - Angel Flower

31 - Angi's Place

32 - Jessa

BONUS - Crystal's Creations

THE HUB

Thanks again for visiting and be sure to check back often if you like what you see! I have other blog trains coming up in the next couple of weeks, as well as some freebies heading this way and new store items!!

Take care and have a wonderful day/evening!!



**EDITED 1/26/09

: The elements link - above - was incorrect, it was taking you to the elements for the Winter Wonderland Elements (blog train post is here for that:
http://purpledragonflycreations.blogspot.com/2008/12/walkin-in-winter-wonderland.html
) . The link for the elements, above, has been corrected and should NOW take you to the elements for the Winter Convoy kit. My apologies for any inconvenience or confusion this may have caused.
**