Just found out about this, and wanted to pass on the word: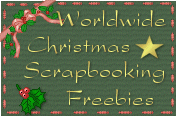 If you are planning on offering at least 1 holiday related freebie during the month of December and would like to add some traffic to your blog, and make some people happy with your wonderful creations, they check out the blog by clicking on the graphic to find out how you can also take part! I have already contacted them and plan on participating as I am going to be in quite a few blog trains that have a holiday theme during the month of December, and all of the offers are FREEBIES!
Come join me and many others for what promises to be a lot of fun and holiday cheer!!