Hello everyone!
Well, at long last I finally got this particular kit finished! I am so glad. I really put a lot of work in to it, and learned a few new things along the way, too. I hope you all like it! It's in pretty shades of pink and green and named after one of my favorite summertime fruits: watermelon! I've been wanting to do this particular kit for months now - since spring started - even had the idea of what I wanted to do for the elements and such, however wanted to get everything just the way I pictured it in my head.
Also, starting with this kit, I am also going to offer up just the papers only in their own zipfile, in jpg format. No worries, they will still be available in the .psp and pspimage full kits as well as .png format, however I was thinking that some people would prefer working with the jpg file instead of one of the other formats. Because of this, the elements in .png format will be in their own zipfile, which can be used with either the jpg or png format papers.
Here is the preview of the parts of the kit (previews are smaller than actual size of kit):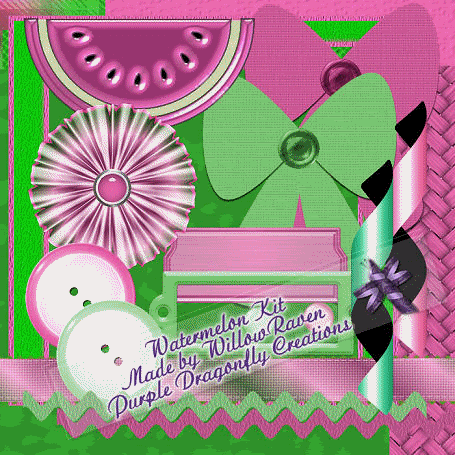 and here are the download links:
Full Kits (has the elements and papers in 1 file, as layers, zipped)
.psp format
.pspimage format
Papers Only
.jpg format
.png format
Elements - .png format
Alphas and Numbers
(the psp and pspimage formats are layered, the png are done in groups, zipped)
.psp format
.pspimage format
.png format
Hope you enjoy and if you download, please share a little love!
Until next time!!